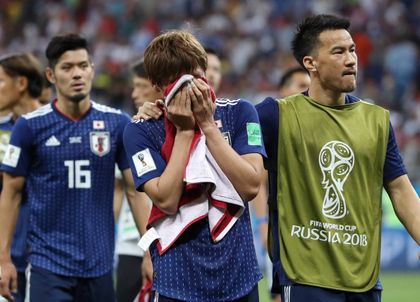 Japan lost to Belgium in the round of 16, bringing an end to their fairy-tale. [Photo/standard.co.uk]
Japanese fans despite losing to Belgium at the World Cup in Russia on Monday took time to help clean up the stadium.
Proving once again that they're the most respectful and lovely football fans in the whole world, supporters of the Japanese team rather than leaving the stadium bitter and disappointed, they stayed behind to clean up.
The Japan team also remained on the pitch following the match to bow to their dedicated fans.
A photo that is doing rounds online also shows the Japan players left their bench and dressing room spotlessly clean and left a thank you note (written in Russian).
During the match, Japan looked on track to reach their first quarter-final after going 2-0 ahead early in the second half.
Japan was 2-0 up in the 52nd minute before goals from Jan Vertonghen (69′), Marouane Fellaini (74′) and Nacer Chadli (90+4′) condemned the Asian nation to a crushing last-16 defeat.
Following the loss, Japan bowed out of the FIFA World Cup 2018 in what will go down as one of the most memorable matches in the competition's recent history.
Here are some of the photos of Japan fans cleaning the stadium: